Why Bordeaux?
Bordeaux is one of the most popular wine destinations in the world, and it's not exactly hard to figure out why. From Saint-Émilion to Médoc, the quality of the wines of Bordeaux are matched only the beauty of the land and the spectacle of the region's capital. It's one of France's definitive wine regions, and never fails to thrill novice and expert wine-lovers alike.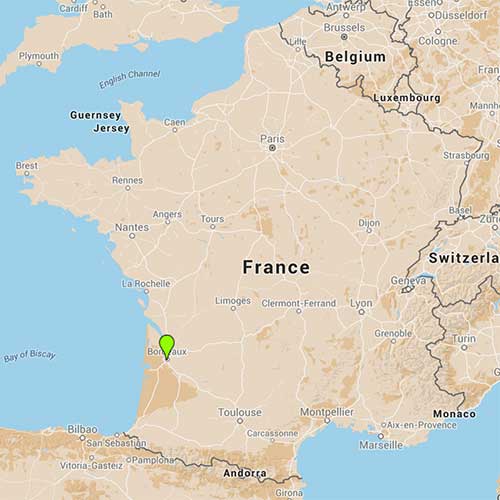 Sights and Sounds
Wine isn't everything in Bordeaux. Well, it mostly is, but the city itself also has 362 monument historiques, over a dozen museums and galleries and an old town centre which is listed as a UNESCO World Heritage Site.
The Wines
Bordeaux produces wines made from a vast range of grape varieties – Cabernet Sauvignon, Cabernet Franc, Merlot, Petit Verdot, Malbec and Carménère for reds, and Sémillon, Sauvignon Blanc and Muscadelle for white. The region brings in over 14bn euros every year from its wine trade; an empirical testament to the sheer quality and popularity of Bordelaise wines.
Cuisine
Seafood is the order of the day here – everything from crab to shrimp to mussels to oysters to all the fish you could ever want. Moving in-land, foie gras and confit de canard are particular specialities, as is, of course, the legendary bordelaise sauce
What's On
Loads of things throughout the year, especially in Bordeaux. Wine fanatics will want to check out the Bordeaux Wine Festival or the Epicuriales de Bordeaux (both in June), though the Spring Fair and Christmas Markets aren't to be missed either. Bordeaux City also has as good a cultural scene – gigs, festivals, sports and such and such – as you'd expect from a large and vibrant city.
Getting There
By Air
Bordeaux-Merignac Airport:
London Gatwick (British Airways and EasyJet)
London Stansted (Ryanair)
London Luton (EasyJet)
Bristol (EasyJet)
Glasgow (EasyJet)
Liverpool (EasyJet)
Edinburgh (Ryanair)
By Rail
Gare de Bordeaux-Saint-Jean:
By Road
Paris to Bordeaux (5½ hours)
Malo to Bordeaux (5 hours)
Caen to Bordeaux (5½ hours)