Why Alsace?
So rarely does a region encapsulate so perfectly the best qualities of its neighbours. Alsace is a region which is as German as it is French, yet never dilutes the culture of one to satisfy the culture of the other. It is a perfect blend, which can be found everywhere; in its history, in the architecture, in the food, in the wine. No visit to France would be complete without a visit to Alsace.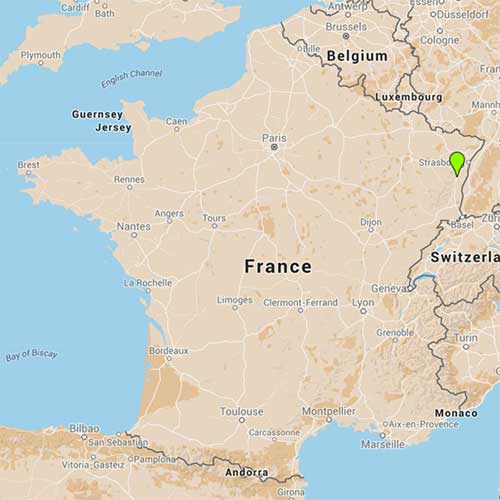 Sights and Sounds
Beyond all of the wonderful parks, restaurants, shops and hotels you'd expect from any great city, Strasbourg is also known for its architecture from a range of historical periods, Mulhouse is famed for its museums (and is home to the largest collection of Bugatti vehicles in the world) and gardens, and Colmar, of course, is vineyard central.
The Wines
Alsatian wine is as heavily influenced by its proximity to Germany as it is by its presence in France. German grape varieties, such as Riesling and Gewurztraminer, are fairly heavily-used. Most of Alsace's wines are white, floral and fruity, though rosés are produced in the wine region and Crémant d'Alsace is known for its sparkling whites.
Cuisine
Like everything else, food in Alsace is as French as it is German, and as German as it is French. Think hearty elegance – choucroute, sauerkraut, coq au Riesling, foie gras and all that sort of thing. Make the most of it, too. Few places have such a marriage of gastronomic tradition.
What's On
The region's big wine fair happens every August in Colmar, whilst Strasbourg hosts a number of film and music festivals over the course of the year. Alsace is particularly worth visiting for its Christmas markets, which are amongst the very best in the world.
Getting There
By Air
Strasbourg International:
London Gatwick (EasyJet)
London Stansted (Ryanair)
By Rail
Gare de Strasbourg:
Paris Gare de l'Est (ICE/TGV)
By Road
Paris to Strasbourg (4½-5 hours)