Why Burgundy?
Burgundy is a land which is situated in the literal heart of France. It is a region known for its deep, voluptuous reds, its world-renowned culinary delights and the utter beauty of its towns and cities.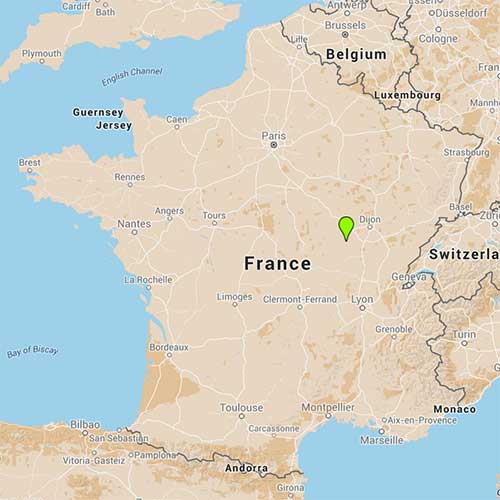 Sights and Sounds
Dijon is a historic city with a number of sights, from the Notre Dame to Dijon Cathedral to a Museum of Fine Arts and Ducal Palace. Elsewhere, you can find the colourful weekend markets of Beaune, set amongst the stunning architecture of the town's buildings, or the award-winning parks of Mâcon. Out into the countryside, you can visit the towering Rock of Solutré, the luscious Arboretum de Pézanin or the UNESCO-listed Vézelay Abbey.
The Wines
Burgundy's wines are produced on over 70,000 acres of land in well over 3000 domaines. Pinot noir and Chardonnay are the most common grape varieties used for white and reds respectively, though others are also used, including Aligoté, Sauvignon blanc and Pinot gris.
Cuisine
Not just the home of Dijon mustard (not that that's not a great thing), Burgundy is also renowned for its coq au vin, Époisses de Bourgogne cheese (Napoleon was a fan), beef bourguignon and snails. They're very good at snails in Burgundy.
What's On
Chalon-sur-Saône and Mâcon each host their own festivals in the summer, whilst Dijon has an International and Gastronomic Fair in the autumn – a must-visit for foodies. June sees Beaune host a famous wine auction whilst the Nuits Saint George and Jazz and Wine Festival mean that oenophiles will never stay thirsty.
Getting There
By Air
Paris Orly:
London Heathrow (British Airways)
London City (EasyJet)
Southampton (Flybe)
Paris Charles de Gaulle:
London Heathrow (British Airways and Air France)
London Gatwick (EasyJet)
London Luton (EasyJet)
Birmingham (Air France and Flybe)
Newcastle-upon-Tyne (Air France and Flybe)
Manchester (Air France, Jet2 and Flybe)
Aberdeen (Air France and Flybe)
Edinburgh (Air France, Flybe and EasyJet)
Bristol (EasyJet)
Liverpool (EasyJet)
Bournemouth (Flybe)
Cardiff (Flybe)
Exeter (Flybe)
Leeds/Bradford (Jet2)
By Rail
Gare de Dijon-Ville:
Gare de Chalon-sur-Saône:
By Road
Paris to Dijon (3½ hours)
Paris to Chalon-sur-Saône (4 hours)