Why Provence & The Rhône Valley?
'The South of France'. Four words which are immediately synonymous with style, sun and splendour. From the vibrant cultural scene of Cannes to the long stretches of stunning Provencal coastline to the sprawling vineyards of the Rhône, further in-land, this is a region known not only as an effervescent playground of the rich and famous, but also as a beautiful getaway for lovers of great food and great wine. If you want to indulge, Provence is where you want to be – and it doesn't hurt that the wines of the Rhône are as good as they are, either.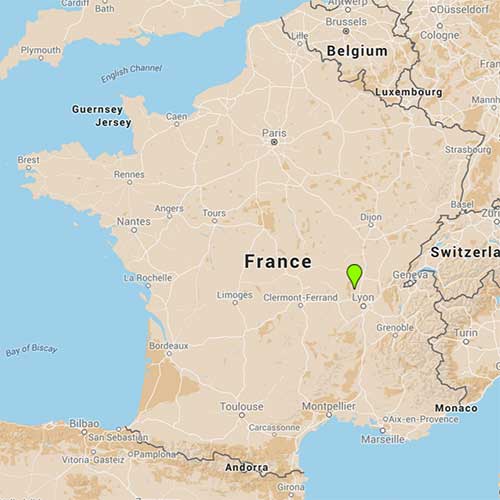 Our Provence & The Rhône Valley Tours
Sights and Sounds
Lyon is the largest city in the Rhône, and is one of the world's foremost cultural hotspots. A number of museums – covering everything from African history to fine arts to the French Resistance – are scattered across the city, as are a range of galleries, parks and countless great restaurants, bars and shopping spots. Further to the south, Avignon, bejewelled with the immense Palais des Papes and once the heart of Western Christianity – will leave you with a dropped-jaw, whilst nearby Nice and Marseille provide glamorous coastal retreats for the more leisurely-minded. And, of course, there's always Cannes – perhaps the best place in the world to shop, drink and relax in the Mediterranean sun.
The Wines
Provence almost exclusively produces rosé wine (88% of its total produced wines are pink) made with the Mourvèdre and Cinsault (often in a blend) grape varieties. The Rhône has some of the oldest vineyards in France, and uses a range of grape varieties – Syrah exclusively for reds and Viognier, Marsanne and Roussanne for whites – to produce some of the best kept secrets in the world of wine.
Cuisine
The Rhône's gastronomic is like much of in-land France's – game meat, fresh local vegetables and an abundance of sausage, stews and potato dishes – except, well, better. Lyon is often regarded as the world's food capital. Provence, as you'd expect, isn't averse to a whole lot of seafood – throw in a close proximity to Italy and the consequent inclusion of olives, olive oil and garlic, and you've got yourself some seriously good food.
What's On
The Rhône's got no shortage of festivals and events – especially in Lyon – but Provence is where you want to be if you want to be at the forefront of what's happening. Fireworks festivals, regattas and, of course, the Cannes Film Festival all work together to keep Cannes firmly in the international spotlight. If that all gets a bit much, of course, it's worth popping over to the Festival d'Avignon in August – the oldest arts festival in France – for a taste of something different.
Getting There
By Air
Marseille Provence Airport:
London Heathrow (British Airways)
London Stansted (Ryanair)
London Gatwick (EasyJet)
Manchester (EasyJet)
Bristol (EasyJet)
Nice Côte d'Azur:
London Heathrow (British Airways)
London City (British Airways)
London Gatwick (British Airways and EasyJet)
London Luton (EasyJet)
London Stansted (EasyJet)
Liverpool (EasyJet)
Edinburgh (EasyJet)
Newcastle-Upon-Tyne (EasyJet)
Birmingham (Monarch)
By Rail
Avignon TGV Station:
London St. Pancras (Eurostar)